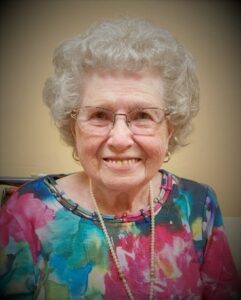 A memorial service is planned for March 25, 11:00 at First Baptist Church in Fairfield, IA, with visitation beginning at 10:00 and a lunch provided following the service.  A private inurnment will be held at Evergreen Cemetery in Fairfield.
A Life of Love and Faith
Hymn:  How Great Thou Art (Tyler & Kaci Krause)
Our Grandma:  Grandson Tyler Krause
Scripture Reading:  For I can do everything through Christ, who gives me strength. Philippians 4:13
Hymn:  Eye of the Sparrow (Kaci Krause)
Dorothy Rathbun:  (Pastor John Kermott)
My Funeral:   (Pastor John Kermott)    Watch Funeral Live on YouTube
I want to thank my Lord and Savior for His love and caring of me.
I have felt His presence in my life after an answer to prayer.
He has walked beside me and I felt His guidance and it is so comforting!
Don't be sad, be glad – when my day comes – Christ will welcome me into Heaven.
I want my children (Family, friends) to experience His presence in their lives every day." 
Love Mom (Dorothy)
Hymn (Congregational):   Great is Thy Faithfulness
Dorothy's Prayer:  Do not be anxious about anything, but in every situation, by prayer and petition, with thanksgiving, present your requests to God.
Philippians 4:6
As we part today : The family wants you to be reminded how truly grateful we are – to have had you in our mother's life, and in having a great, faithful God to direct our daily lives!!" 
 And as Bill would have said:  And, all the people said – AMEN.
…………………………………………………………………………………………………..
Matthew 19:26  – "But Jesus beheld them, and said unto them, With men this is impossible; but with God all things are possible."
If Mom was here today: she would say, "Don't cry." She always had more of a "chin up" kind of way of managing our sadness.  She always knew to look ahead, see what God has for you, and then buckle down and get to work.  She knew, " All things are possible with God, So get on with it and live for Him." And so….that is just what we'll do.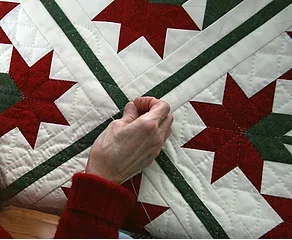 My Quilt (author unknown)
As I faced my Maker at the last judgement, I knelt before the Lord along with all the other souls.
Before each of us laid our lives like the squares of a quilt in many piles.
An Angel sat before each of us sewing our quilt square together into a tapestry that is our life.
But as my angel took each piece of cloth off the pile, I noticed how ragged and empty were my squares.  They were filled with giant holes.  Each square was labeled with a part of my life that had been difficult, the challenges and temptations I was faced with in everyday life.  I saw hardships I endured, which were the largest holes of all.
I glanced around me.  Nobody else had such squares.  Other than a tiny hole here and there, the other tapestries were filled with rich color and the bright hues of world fortune. I gazed upon my life and was disheartened.
My angel was sewing the ragged pieces of cloth together, threadbare and empty, like binding air.  Finally, the time came when each life was to be displayed, held up to the light, the scrutiny of truth.
The others rose, each in turn, holding up their tapestries.  So filled their lives had been.  My angel looked upon me, and nodded for me to rise.
My gaze dropped to the ground in shame.
I hadn't had all the earthly fortunes.  I had love in my life, and laughter.  But there had also been trials of illness, and death, and false accusations that took me from my world, as I knew it.  I had to start over many times.  I often struggled with the temptation to quit, only to somehow muster the strength to pick up and begin again.  I spent many nights on my knees in prayer, asking for help and guidance in my life.  I had often been held up to ridicule, which I endured painfully, each time offering it up to the Father in hopes that I would not melt within my skin beneath the judgmental gaze of those who unfairly judged me.  And now, I had to face the truth.  My life was what it was, and I had to accept it for what it was.
I rose and slowly lifted the combined squares of my life to the light.  An awe-filled gasp filled the air.  I gazed around at the others who stared at me with wild eyes.
Then I looked upon the tapestry before me.  Light flooded the many holes, creating an image, the face of Christ.  Then our Lord stood before me, with warmth and love in His eyes.  He said, "Every time you gave over your life to me, it became My life, My hardships, and My struggles.  Each point of light in your life is when you stepped aside and let Me shine through, until there was more of Me than there was of you."
May all our quilts be threadbare and worn, allowing Christ to shine through.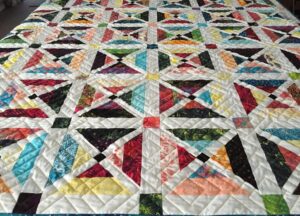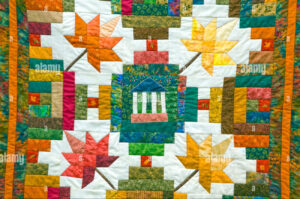 Made with Love:
Born out of the depression generation, mom was a make-do-woman. While we slept at night, she began her mending and sewing on a machine in the corner of their small bedroom.  Our clothes were handmade out of necessity.  Every stitch sewn with threads of love.  She labored over beautifully sewn Easter and Christmas dresses, and sometimes let us order the special fish-net tights, Easter hat, new shoes and a matching purse.
Anything I needed for school, such as costumes, or an evening dress for a dance, she would sew it up. Every costume was produced with historical accuracy and well suited for the event.
Our Christmases were not often store bought, but instead made from what we had available. Mom and dad didn't say "we can't afford it", although they didn't have much in spendable cash, yet we didn't feel poor.
We traveled on family camping vacations that felt like adventures into unknown countries. While camping, we used equipment that dad built and mom made attractive, and we felt all the smarter for having one-of-a-kind camping equipment.
Dad even designed and built the tent camper, something he later wished he'd patented. We had great family memories camping and the highlight of every day was playing card and board games inside that tiny camper before bed.  Dad was savvy at card games, and mom played the giddy-school girl role attempting her best to look good at it and rubbing it in whenever she beat dad- which wasn't very often.
Even on these vacations mom had to be creative. We were usually traveling on my birthday in June and a watermelon cut in half with matches sticking up, became my cake.
As they got older, mom made the grandkids a beautiful graduation quilt and wedding quilts and then she began sewing her love into the squares of fabric for the next generation- her great grandchildren.
As mom got older and her memory began to fade, her sewing machine came to a stop. But the twinkle in her eyes didn't.  She didn't miss many moments to throw a quip out and always kept a keen ear listening to what was being discussed and piping in with her thoughts and opinion.
Born to Riches:
By our mother and father – we were blessed in so many ways of wealth – mostly not of the world's financial type – but in the most valuable of ways. Mom and dad were extraordinarily wealthy people – they were loved and respected by many.
Our parents believed devoutly – the world's wealth fades – yet the Fathers teachings and His love – are endless and priceless. And they gave that knowledge to us.  And shared it with many.
Their wealth did not fit into a financial report. Their wealth was the type most people seek – and they found it and taught it.  That is their truest legacy.  That was – is – my mother and father.  God please take care of them – They are your biggest, biggest fans!